Nicaragua Travel Letter – A nice touch
Over the 18 years of providing memorable travel experiences to our clients we are grateful to have received hundreds of letters from clients that relate their experience traveling with Tours Nicaragua.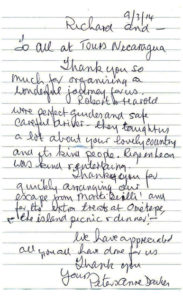 A couple who visited us this March sent back to us via our guide Roberto a very nice touch, a hand-written letter – posted here – that expresses their traveling pleasure with paper and pen. How old school one might say, and charming, in this digital age, when words are normally read at breakneck speed, to sit down with a morning coffee and read and letter written by hand.
We are really grateful to all of our clients for visiting Nicaragua with us and are touched by our visitors taking time out (whether with a keyboard or pen) to tell us about their trip and how they enjoyed the beauty of Nicaragua's people and land.