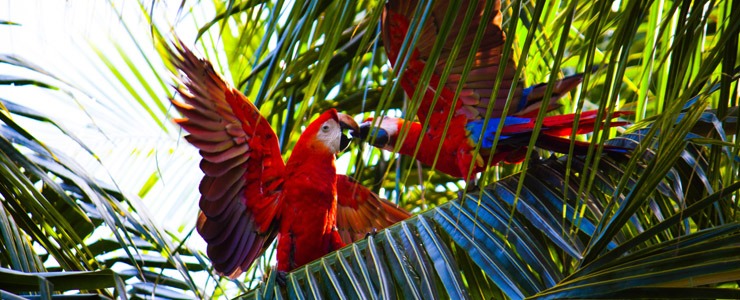 Nicaragua Wildlife
Rio San Juan, Indio Maíz & Los Guatuzos Wildlife Refuge
7 days – 6 nights
Book A Tour
In Nicaragua's 78 precious nature parks nature is king. Mankind is just a footnote. This natural history tour visits two of Nicaragua's most important rain forest reserves. Although they are not the easiest or most economical to get to, they are probably the finest for all around wildlife viewing. For those who love nature and want to enjoy it with the peace and quiet of wilderness, not with a crowd of tourists, Nicaragua Wildlife is a natural history expedition that offers the real thing. Great mammal, reptile and bird life. Los Guatuzos' water canals are superb for spotting tropical wildlife, with wetlands and gallery forest, lighting conditions are ideal for spotting birds and mammals. The Indio-Maíz Biological Reserve is one of the region's finest lowland tropical rain forests and we take you hiking with an expert to see what we can find. The lodging in basic, but the nature is not.
Nicaragua Wildlife Expedition Itinerary
Day 01: Managua

Airport greeting by private transportation for transfer to selected Hotel in Managua.
Day 02: San Carlos – Solentiname Archipelago

Breakfast at hotel and transfer to airport for flight to San Carlos in Cessna Grand Caravan 208B. 4×4 taxi to dock and private motorboat transfer on Lake Nicaragua to the Solentiname Archipelago. Lunch and then afternoon walks for bird watching and visits with local nature artists. Lodging and all meals at the rustic Hotel Celentiname.
Day 03: Solentiname – Los Guatuzos Wildlife Refuge

Early morning departure in private boat to the virgin island of Zapote, nesting site for more than 12,000 birds. Boat visit to the Río Zapote, a seldom seen corner of the Los Guatuzos Wildlife Refuge, home to more than 300 species of birds, 3 species of monkey, sloths, crocodiles and the fascinating Jesus Christ lizard. Continue in private boat for the rain forest river of Río Papaturro in the Los Guatuzos Wildlife Reserve. The journey includes a visit to the biological research station up river, where the community is involved in research and preservation of endangered species and a small butterfly farming operation is combines with a turtle hatchery and more than 100 species of orchids are on display. Lunch in Papaturro. Return in private boat for lodging and dinner meals at the Hotel Celentiname.
Day 04: Solentiname – San Juan River

Private boat transfer to San Carlos and then down the mighty Rio San Juan. The San Juan River is Nicaragua's most historic waterway and also marks the southern border of the rain forest wildlife of the pristine Indio-Maiz Biological Reserve. Lunch, dinner and lodging in El Castillo with a visit to the 17th century colonial fortress and lodging at Hotel Victoria in the village of El Castillo on the San Juan River.
Day 05: Rio San Juan – Indio-Maiz Biological Reserve

Early breakfast at the hotel and private boat transfer down river to the several visited trails inside the Indio-Maíz Reserve for wildlife spotting with our expert naturalist guide. Very simple pack lunch between hikes. Dinner and lodging at Hotel Victoria in El Castillo.
Day 06: San Juan River – Managua

Breakfast and morning to enjoy the unique beauty and nature of the San Juan River. Private motorboat transfer to San Carlos. Flight to Managua. Airport greeting in Managua and transfer to selected hotel in Managua.
Day 07: Managua

Breakfast and transfer to airport for flight home.