Nicaragua Vacation Classics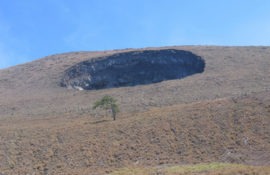 Colonial cities, Lake Nicaragua & active volcanoes
4 days
For those visitors short on time, this is the perfect treat. Taste of Nicaragua takes you to the country's most significant colonial cities, active volcanoes and to some of Lake Nicaragua's most beautiful islands. The trip features a culture and history tour of the historic, colonial gem of Granada with visits to significant churches, museums and cultural/historical spots. It includes up close and personal visits to the smoking crater of the Masaya Volcano where you will witness the stirrings of the earth's inner soul.
Read More +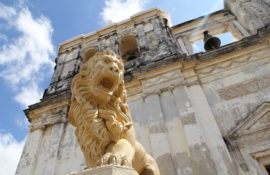 Colonial cities, volcanoes & native market
7 days
This low-key Nicaragua vacation is perfect for travelers that want to have some guided tours of Nicaragua's most famous sites, but also have time on their own to wander colonial streets. For Nicaragua sightseeing this is a way to be well taken care of and still have some time on your own. While we can make "downtime" a part of any Nicaragua sightseeing, ecotour or Nicaragua vacation package, we offer this version as a sample of how to mix solo sightseeing in Nicaragua with guided tours of keys sites.
Read More +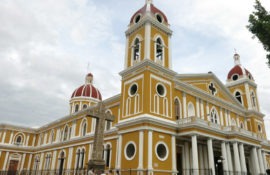 Colonial cities, Lake Nicaragua, volcanoes & beach
7 days
Relax, sit back and enjoy the experience. We'll show you the country's two most beautiful red-roofed, Spanish colonial cities: León and Granada. You'll witness the earth's inner passions at two smoking and bubbling, active volcanoes: Telica and Masaya. Well take you shopping to Nicaragua's folkloric center of Masaya, where the only thing more beautiful than the native-crafts are their price. A private boat will be waiting for you to cruise out on to smooth Lake Nicaragua to the tropical, 354-island paradise of Las Isletas.
Read More +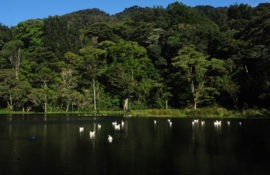 Colonial cities, villages, volcanoes & forest
8 days
A diverse experience in Nicaragua's natural and cultural beauty that ranges from the northern mountain cloud forests and villages to the Pacific Ocean, with colonial towns León and Granada, the nation's capital of Managua, crafts of the Masaya market and Mesa Villages, to the volcanoes that place Nicaragua in the Pacific Ring of Fire. Nicaragua's colonial capital of León, founded in the early 17th century, is home to numerous colonial period churches, each one unique in its design from tiny parish size chapels to the mighty Cathedral, Central America's largest church.
Read More +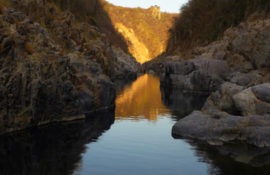 Highland culture, history & nature reserves
8 days
Leave the beaten path and journey into one of Nicaragua's most beautiful regions with unique food, culture, history and nature. This trip features these seldom visited highland towns and cities plus mountains, cascades and nature reserves. Bustling northern provincial capital Estelí has a rich revolutionary history and is home to some of the highest quality tobacco and cigars in the world, it also has the continental divide nature reserve of Tisey, and the precious mountain cascade Estanzuela.
Read More +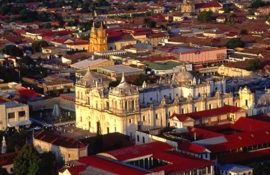 Colonial cities, volcanoes, lake island, Pacific beach, cloud forest
14 days
Discover Nicaragua is a two week holiday for those who travel to learn about cultures, experience real nature and finish relaxing under a tropical sun. It is a combination of cultural touring, ecotourism and down time to relax on the beach. Discover and then recharge your batteries. This is a diverse experience with visits to coffee haciendas, highland villages, colonial cities, artisan villages, cloud forests, volcanoes, volcanic islands, great lakes, fresh water beaches and Pacific Ocean beaches.
Read More +
Vacations in Nicaragua
Nicaragua is located in Central America, bordering Honduras and El Salvador to the north, and Costa Rica to the south, the Pacific Ocean to the west and the Caribbean Sea to the east. Nicaragua is the land of mountains, lakes and volcanoes. Nature is extremely versatile and beautiful, people are open-minded and naturally friendly, and the colonial towns are more than impressive. Enough ingredients for an unforgettable trip! Book one of our great tours to enjoy your vacation in Nicaragua!
Things to do on your vacation trip in Nicaragua
The landscape of Nicaragua is varied. In the west, you find lowlands and volcanoes, in the east tropical forest, in the north mountains, and in the south, lies the Lake Cocibolca, the largest lake in Central America and one of the biggest freshwater bodies in the world. Nicaragua features hundreds of islands and rivers. But there is so much more to see in your vacation in Nicaragua! Nicaragua has several active volcanos, which are able to hike. You can even slide down an active volcano, Cerro Negro, located near Leon. León, like Granada, is a well-known colorful colonial city in Nicaragua. During your vacation in Nicaragua, you definitely have to visit these unique sites.
Culture
Beside exuberant nature and colorful colonial cities, Nicaragua has a lot of culture to offer. The perfect place for this is Masaya. There are several things to do in and around Masaya. A fun activity is visiting the markets in town. Masaya has two major markets: Mercardo de Artesanias and the Mercado Municipal Ernesto Fernández. The first market, Mercardo de Artesanias, is quite popular with tourists. You can buy beautiful handmade souvenirs here. The other market, the Mercado Municipal Ernesto Fernández, is a lot bigger and slightly more chaotic, here you find handicraft, hammocks and exotic fruits.
Just outside Masaya you find the Pueblos Blancos, the white villages. These small towns offer a lot of products like hammocks, flowers, and pottery. In Catarina the beautiful view over crater lake Laguna de Apoyo, or Apoyo Lagoon, is extremely inviting.
Spend your vacations in Nicaragua
As you will understand, there are lots of things to do and see, to enjoy your vacation in Nicaragua to the fullest. Plan your trip now and start exploring Nicaragua with Tours Nicaragua!