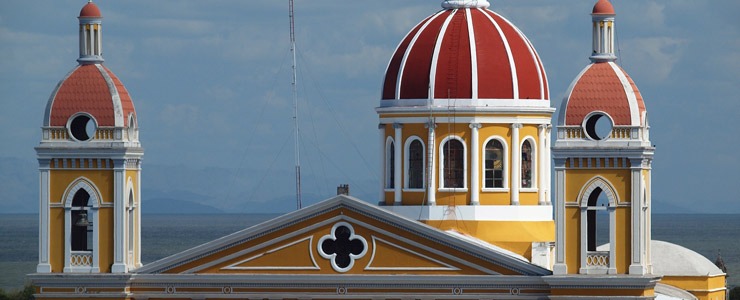 Nicaragua Culture Tour
Colonial cities, villages, rural life, food & arts
7 days – 6 nights
Book A Tour
Whereas many are aware of Nicaragua's great natural beauty, few foreigners on a first visit to Nicaragua realize how good Nicaragua's food is or its importance in the world of Spanish language poetry. Nicaragua has many historic colonial structures and a charming rural architecture and way of life. This is a survey of numerous such Nicaraguan cultural subtleties. Home to numerous colonial period churches, including Central America's largest cathedral and Nicaragua's greatest passion, poetry, León is also the cradle of Nicaragua's 20th century revolutionary movement. Granada is one of Latin America's most beautiful colonial cities. This ancient town on the shores of mighty Lake Nicaragua is full of history and Spanish colonial charm and is one of the oldest European settlements in the western hemisphere full of old pirate tales. Los Pueblos de la Meseta is a series of tiny villages that was once the ancient center of the great Chorotega Indian empire that for centuries stretched from Costa Rica to Honduras. Nicaragua's northern mountains are home to Nicaragua's most important crop coffee, fine hand rolled cigars and an ancient method of gold mining. This cultural tour program gives the visitor an in-depth look at the beauty and history of León, Granada, Los Pueblos and the Northern Mountains with the aid of an English speaking guide.
Nicaragua Culture Tour Itinerary
Day 01: Managua

Transfer to selected Hotel in Managua for lodging.
Day 02: Managua – Ciudad Dario – Selva Negra

Culture tour of Managua with visits to key sites. Transfer north along the eastern shores of Lake Managua to the quiet cowboy village of Darío, birthplace of Nicaragua's supreme hero of the same name. Continue north to the lush forest of Selva Negra Mountain Resort for lodging.
Day 03: Selva Negra

Hacienda tour with local guide of the farm at Selva Negra. This completely sustainable organic shade coffee hacienda has made groundbreaking use of recycling and produces all an entire range of products in a manner that few farms in the world can rival in terms of ecological responsibility. Nature walk with local guide in the cloud forest. Lodging at Selva Negra Mountain Resort.
Day 04: Estelí – Mina La India – Leon

Transfer into the adjacent mountains for the Cordillera Isabella and the highland valley of Estelí, home to Central America's finest handmade cigars. Visit to local producer to see how the tobacco is fermented and rolled. Transfer through the rustic mining region that descends along the Río Grande with a stop to visit with artisan gold miners who eek out a meager living with a unique mining technique. Transfer through the active Maribios Volcano Range to colonial León for lodging in the historic center at selected Hotel.
Day 05: Leon – Leon Viejo – Granada

Breakfast at hotel and morning walking tour of Nicaragua's intellectual and artistic capital colonial León, with visits to the world famous poet Rubén Darío's house, a colonial home art gallery, some of the city's colonial period churches. Transfer south to the original location of León founded in 1524 at the UNESCO World Heritage site of León Viejo. Explanation of the ruins and the tragic history of this city that would shape Nicaragua's political future. Transfer further south to Central America's oldest European settlement, early 16th century Granada. Tour of lake front Granada's colonial beauty, history and art. Lodging in historic center at selected Hotel.
Day 06: Granada – Los Pueblos – Masaya Market – Granada

Breakfast at hotel and transfer to the ancient highland villages of "La Meseta", for visits to the indigenous artisan's workshops of Catarina, San Juan de Oriente and Masatepe. All these precious towns have colonial period houses and churches and a hardworking, native population. After the highland villages, transfer to the historic city of Masaya. Masaya has been populated for more than 3,000 years. The principle item made in town is hammocks, which are considered my many the world's finest. Masaya's friendly population has restored their 19th century outdoor indigenous market for the sale of their hand made goods and those of all of Nicaragua. Return to Granada and selected Hotel.
Day 07: Granada – Managua

Breakfast at Hotel and transfer to Managua.