International travelers are often surprised to learn that the United Nations ranks Nicaragua as one of the safest countries in Latin America.
Many of our customers have related to us that before their visit to Nicaragua they were shown concern by family or friends about safety issues in Nicaragua. The easiest way to diminish negative feelings about Nicaragua is to visit and see for yourself. Since you are viewing this site you may soon have that pleasure.
Homicide statistics are listed for U.S. cities and countries with a population of 250,000 or greater. Rates are based on cases per 100,000 people for all of calendar year 2014.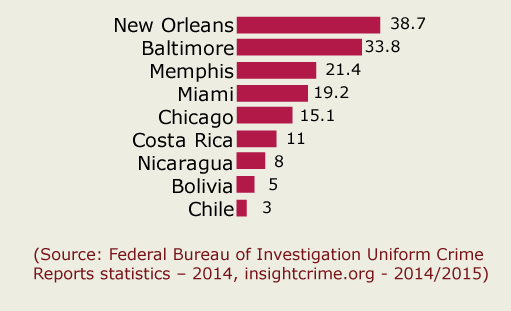 However, common crime appears not to be the central issue for those considering a visit to Nicaragua. What seems to worry most potential travelers to Nicaragua is not crime, but war. Incredibly some seem to believe Nicaragua is still at war, a bit surprising, since the Contra conflict ended over 26 years ago. After achieving peace, Nicaragua vanished completely from the world news radar.
That said, there is no debate on Nicaragua's current status as a nation at peace. The 2009 "Global Peace Index" which ranks 144 countries in the world ranked Nicaragua the 5th most peaceful country in Latin America. The non-profit that does the study bases their ranking on dozens of criteria and many are economic in nature.
However, even with the lack of material wealth in Nicaragua (considered the second poorest nation in the hemisphere), the Global Peace Index has Nicaragua listed as the 5th most peaceful country in all of Latin America, ahead of Latin American economic powerhouses like Argentina, Brazil and Mexico.
To be doubly safe, common sense precautions should be taken for visitors to Nicaragua, as in any country in the world. What occasionally gets independent travelers in trouble is just being new to Latin America, not knowing what places to avoid and how countries like Nicaragua work.
One easy solution is travel with experienced professionals, like our team of drivers and guides on a Nicaragua Vacation planned by our office.
For those that would rather go it alone, we should point out that visitors who are competent in Spanish and have studied a couple of up-to-date Nicaragua guide books (Moon and Footprint publish the two best) can navigate Nicaragua safely by using these and other common sense precautions.
Managua, León and Granada have some barrios one would best avoid entirely and there are a select group of con artists here who prey on the gullible budget traveler, not to mention public bus and taxi crooks who could not care the least if you are native or not. However, few visitors to Nicaragua can claim their home country is crime free, so perspective is key.
Common sense precautions and decent language skills are a must for independent travelers coming to Nicaragua for the first time. Since hostels and most budget lodging  are located in the sketchiest part of town, one  should avoid night walks alone and keep your valuables in your hotel room safe.
Make a backup photocopy of your passport and tourist card (which you receive for US$10 upon arrival at immigration). Keep the photocopies on you and the originals in the hotel.
Naturally if you decide to visit Nicaragua with Tours Nicaragua, you benefit immensely from our 20 years of Nicaragua Vacation planning experience. You take advantage low rates at the country's finest hotels, our private tours and transfers using late model insured vehicles, with a calm, professional driver behind the wheel and one of our experienced and knowledgeable English speaking guides at your side.